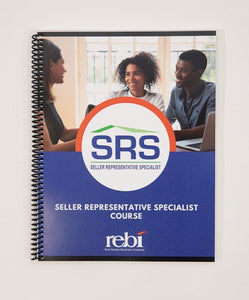 Course Title: Seller Representative Specialist (SRS)
This is a printed-copy course book of Seller Representative Specialist (SRS)
About Seller Representative Specialist (SRS)
The two-day SRS designation provides a comprehensive foundation of skill development, training and resources to help real estate professionals represent the interests of sellers in today's marketplace. Students learn to: 
Increase listings and grow their business.

Demonstrate and communicate their value package to seller clients.

Understand and apply the Code of Ethics and Standards of Practice.

Understand and comply with state license laws when representing sellers; and

Understand and apply methods, tools, and techniques to provide the support and services the sellers want and need.
To check availability and register for this course, please go to ABoR.com/Calendar.