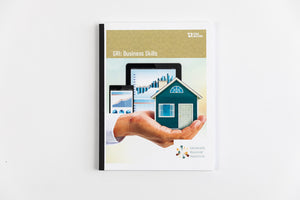 This is a hard-copy course book for GRI: Marketing Business Skills. 
About GRI: Marketing Business Skills 
Topics include: Seller Services, Buyer Services, Technology, and Environment & Green Building.   
Earning the Graduate REALTOR Institute (GRI) designation is a way to stand out to prospective home buyers and sellers as a REALTOR who has gained in-depth knowledge on technical subjects as well as the fundamentals of real estate. Texas GRI has been updated to keep pace with changing laws, technology, and best practices. And this course satisfies 30- SAE hours of the 90-hour SAE requirement for new Texas REALTORS. 
To check availability and register for this course, please go to ABoR.com/Calendar.